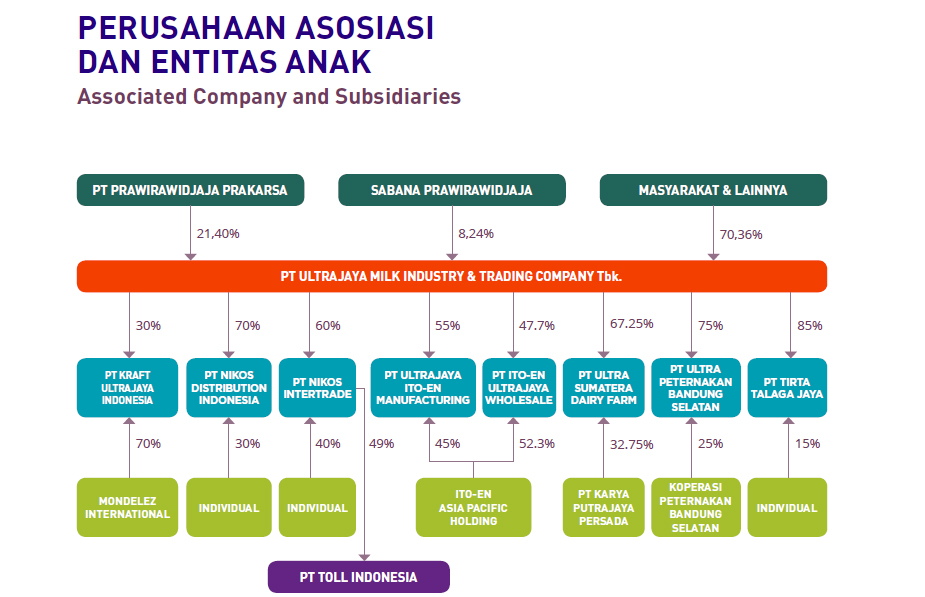 Shares of PT Prawirawidjaja Prakarsa owned by Mr. Sabana Prawirawidjaja (75%), Mr. Supiandi Prawirawidjaja (12.5%), and Mr. Samudera Prawirawidjaja (12.5%). Mr. Sabana Prawirawidjaja and Mr. Supiandi Prawirawidjaja are the founders of the Company.
PT Kraft Ultrajaya Indonesia operates in the cheese industry. The Shares of PT Kraft Ultrajaya Indonesia are owned by Mondelez International (formerly Kraft Foods Netherland Services B.V. formerly Kraft Food Biscuits B.V. formerly Kraft General Foods Ltd.) 70%, and the Company 30%.
PT Nikos Distribution Indonesia is engaged in distribution, trade, transportation, and services.
PT Nikos Intertrade is engaged in logistics business and has a 49% stake in PT Toll Indonesia.
PT Ultrajaya Ito-En Manufacturing is engaged in Green Tea RTD (ready to drink) industry packaged in PET (Polyethylene Terephthalate) bottles.
PT Ito-En Ultrajaya Wholesale was established to market, sell, and distribute Green Tea RTD products.
PT Ultra Sumatra Dairy Farm is engaged in agriculture, animal husbandry, and trade, and was established with the aim to develop a dairy farm in Sumatra. Currently it is still in the development stage and not yet in operation.
PT Ultra Peternakan Bandung Selatan is engaged in agriculture, animal husbandry, and trade.
PT Tirta Talaga Jaya is engaged in water management.